Tips to Save Money on Your Roof Installation in Grand Rapids Michigan
One of the major components on your home is the roof of the home. And when there are problems on your roof it can affect almost everything else in the home and cause damages. One reason why so many people put off getting a roofing project done on their homes is because they can be quite expensive. Depending on the size of your home and the roofing materials a roofing project can easily reach into the thousands of dollars. While roofing may be expensive, there are things that you can do when getting a roof installation in Grand Rapids Michigan to save money which I'll share with you below. 
Tips to Save Money on Your Roof Installation in Grand Rapids Michigan
If you're looking for ways to save money on your home's roofing project you may consider some things that can save you money initially but cost you more money later. Depending on the quality of the roofing materials and the warranty that is included with those materials can help you better understand just how long the roof will last. Many places may advise that you do some or even all of the roofing work yourself which is really bad. DIY installations of roofing products can cause many problems including voiding the warranty on your entire roof. Plus, it's very dangerous and you can be seriously injured or even killed by falling from your home's roof.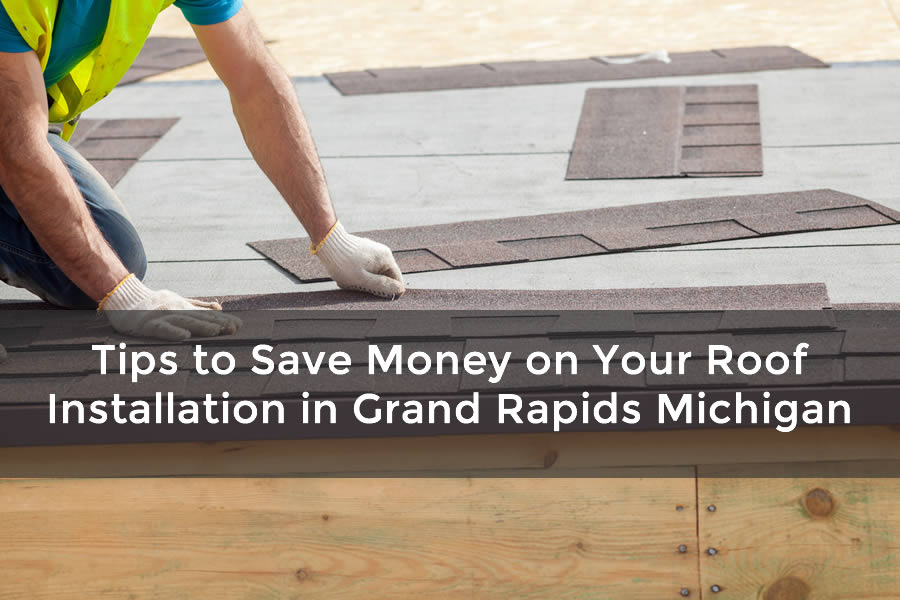 Get a Roofing Inspection First
Understanding just what shape your roof is in is the first step in the roof installation process. Without a proper roof inspection it's difficult for roofers to estimate costs and materials. Also, if you were advised that you need a new roof installed on your Grand Rapids Michigan home it's always best to get a second opinion. Since roofing project such as replacements can be expensive being absolutely sure you need a new roof installed is crucial. This simple tip can save you thousands of dollars on a roof project if all that you need is roof repair rather than complete roof replacement.
Consider 3 Tab Shingles for Your Home
There are many different style and designs of shingles. In fact, there are many manufacturers of roofing shingles and each one of those have different qualities and designs. More intriguing designs can also be more expensive. One popular style of shingle that most roofing manufacturers offer is called three tab shingles. Three tab shingles usually have a standard warranty of about 15 years attached to them. And the best part about three tab shingles is that they are relatively economical when compared to the more stylish architectural shingles.
Can Your Home Be Re-Roofed?
The roofing materials you choose to be installed on your home is important and can really help to cut down on costs. The roofing materials isn't the only way to save money however, you can actually save money by having the roofing materials installed a certain way. The method that can save the most money on roof installation is called re-roofing or roof over.
Getting a roof over means to install a new layer of roofing shingles over the old shingles that are already installed on the home. This can save money because the labor and disposal charges for removing the old roof are cut down drastically. Plus, having a roof over done usually means your roof can be installed in as little as a single day. There are some drawbacks to having a roof over done on your home however.
One thing you'll need to consider when getting a roof over or re-roof on your home is it's current roofing. If the home already has two layers of roofing shingles installed then local building codes here in Grand Rapids Michigan does not allow a third. Adding three layers of shingle roofing to your home will add too much weight to the roof and may make the home stressed structurally which can be dangerous and cause foundation problems. Two layers of roofing shingles are allowed on most home however.
Get Multiple Estimates and Compare Them
Another great way to save money on getting a roof installation in Grand Rapids Michigan is to get multiple estimates and then compare them. One thing you'll need to consider is how the roof will be installed and also the materials used. Be sure all the estimates have the same materials and method of installation listed.