Warning Signs That You May Need a New Roof in Grand Rapids MI
Getting a new roof installed on your Grand Rapids Michigan home can be quite a  home improvement project to undertake. New roof installations usually cost thousands of dollars and most people try to put it off as much as they can. Unfortunately, waiting to get a new roof installed in Grand Rapids Michigan can cost you even more when you consider how much damages can be done to the interior of the home from a roof leak. Knowing when you need a new roof can help you make the decision to get a new roof installed which is what I will go over in this article. 
Warning Signs That You May Need a New Roof in Grand Rapids MI
Keeping your roof in good shape and regularly checked and maintained can mean it will last for decades. In fact, some roofing materials on the market today last for 50 years and come with a warranty as well. Most roofing material warranties last between 15 and 30 years depending on the company as well as the quality of the roofing. More economical choices will have a shorter warranty period. Knowing the type and warranty your roof has can certainly help determine how well it is performing. For instance, lower quality three tab shingles may fail at 15 years while higher quality architectural shingles can last 30 years. So if your roof is 20 years old, it can really help determine just how much life is left in the roof. Continuing to get roof repair on a failing roof will likely cost much more over time than just replacing the roof when you notice the following signs of roof failure.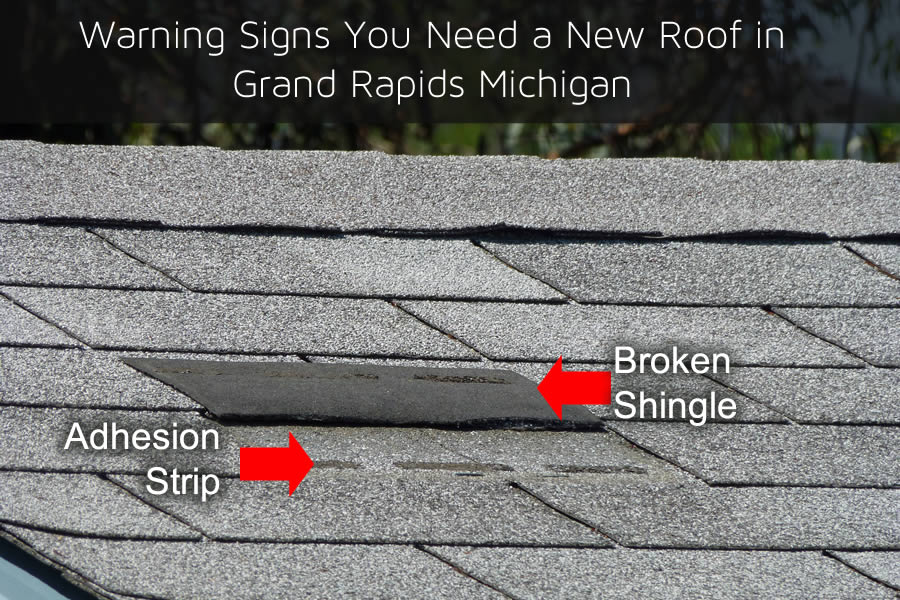 Storm Damage on the Roof
Storms can damage a roof at any time and almost any season. Summer seems to bring higher winds and damaging hail to roofs while winter can attack the roof with ice and snow buildup. In either case, if your roof is damaged by storms it can be done to any age of roofing. However, the older the roofing materials are the less likely they will hold up to storm damage. Sometimes the damage can cover the entire roof and the entire roof will need to be replaced. This is very common when a roof has hail damage. An alternative to help prevent hail damage in the future on your roof is to have impact resistant shingles installed on the roof. Impact resistant shingles are higher quality shingles that can withstand most hail falling on them.
Missing Asphalt Shingles on the Roof
Another problem you may notice on your roof is missing asphalt shingles. As wind gets under the shingle it breaks it and can blow it off the roof entirely. If you find bits and pieces of asphalt shingles on your lawn chances are you have problems on your roof. Sometimes simple roof repair can be done to replace just the damaged shingles but if the roof is older this may not be a good idea. As a shingle gets older it starts to lose adhesion to the roofing below it making it much more susceptible to damage. I'll go over this problem in the next section but if you notice missing shingles on your roof make sure you get a roof inspection in Grand Rapids Michigan as soon as possible.

Curled and Aged Asphalt Shingles
As the roofing on your home gets older it starts to change. These changes take years to happen but can lead to a variety of problems. One of the biggest problems for older shingles is that they start to curl at the corners of the shingle. This happens because of the years of contracting and expanding each and every day. As they curl they start to lose adhesion to the shingle below them. They also create a wind packet where wind can get under the shingle and blow it up usually breaking it because it start to get brittle as well over time. This process happens at a slow pace but affects many asphalt shingle roofs. When your roof starts to do this you'll likely see more and more roof repairs needed for broken shingles. Getting a new roof in Grand Rapids Michigan can help to stop this problem. Get a roof inspection in Grand Rapids Michigan to understand just what condition your roof is in.