Key Questions You Should Ask A Roofing Contractor in Grand Rapids Michigan Before Hiring Them
When your roof fails and you need roof repair or worse, a new roof installed on your home you'll need to hire a roofing contractor to do so. But before you hire anyone to install a new roof on your home there are some things you'll need to know about the roofing contractor that will install your roof. I've put together some very important questions that you should ask any roofing contractor in Grand Rapids Michigan that you are considering hiring for your roof installation. 
Key Questions You Should Ask A Roofing Contractor in Grand Rapids Michigan Before Hiring Them
There are many roofing contractors that you can hire to install or repair your roof but they aren't all the same. In fact, there are many companies that are merely fly-by-night type businesses that are just middle men for roofing contractors. Knowing what to look for in a roofing contractor in Grand Rapids Michigan can help you make a more informed choice when hiring a roofing contractor plus, you'll get a much better end result. Be sure to ask any potential roofing contractor the following questions to determine if you should hire them or not.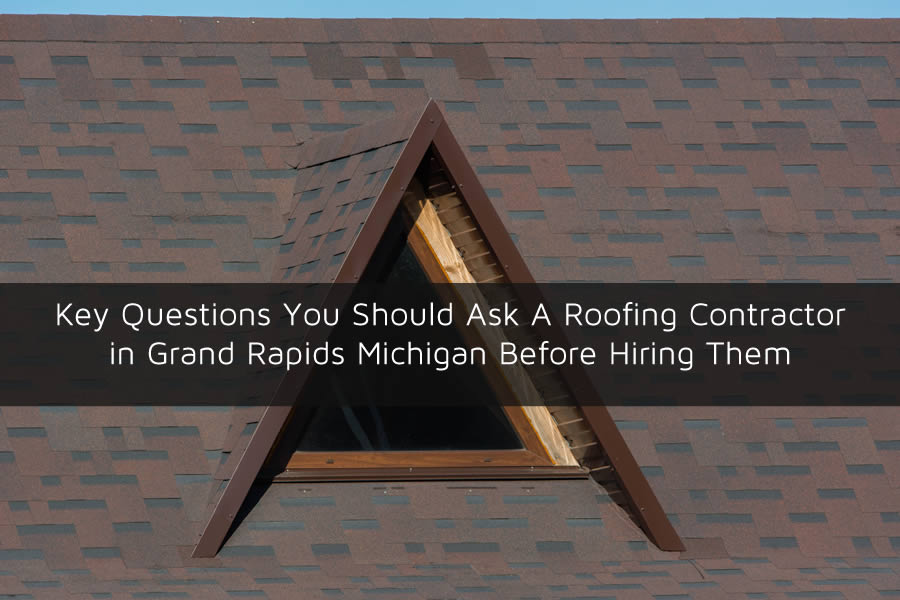 How Long Have You Been in Business?
A roofing contractor that has been in business for many years is obviously doing something right. Although new roofing contractors can give you great results, you're also taking a chance if the roofing contractor hasn't been in business that long. Contractors who have been in business for more than 10 years are likely much better at customer service as well.
Are You Licensed and Insured?
Having a roofing contractor in Grand Rapids Michigan come to your home and work on your roof who isn't licensed and insured is risky. If an accident happens, your home owners insurance will likely have to pay which usually means higher insurance rates for you. You'll also want to ensure the roofing contractors are licensed because some roofing material manufacturers require a qualified company to install their products. And if the roofing materials are not installed correctly, your warranty on the entire roof could be void. Make sure your roofing contractor is fully licensed and insured before allowing them to work at your home.
Do You Hold Any Roofing Accreditation or Certificates?
Many roofing material manufacturers will offer different accreditation and certificates. One of the more prominent in the industry is the GAF Master Elite roofer accreditation. Some of the roofing systems that are now offered by roofing material manufacturers require roofers that install their products to have this certification. Ask about any certifications from the roofing contractor you will be hiring to install your new roof in Grand Rapids Michigan.
Do You Have Experience with The Roofing Material of My Home?
The most popular roofing material used in Grand Rapids Michigan today is asphalt shingle roofing. However, asphalt shingles aren't the only type of roofing used. There are many other types of roofing including metal roofing, roll roofing, and even rubber roofing. Whatever type of roofing you wish to install on your home needs to have a roofing contractor who has experience with that product. You certainly don't want a roofing contractor to learn how to install the product and basically experiment on your home's roof.
Can You Provide References or Photos of Previous Projects?
Most roofing contractors will have photos and references available with them almost always. Ask about the addresses of past customers as well and ride by their homes and see how the roof looks. A contractor that has many references is always better. Keep in mind however, you'll only see the best photos of their past jobs.
What Warranty or Guarantee is Offered for My Roof?
Most roofing materials sold today come with a warranty from the manufacturer provided the roofing materials are installed correctly. Some roofing contractors however will also offer an additional guarantee on the roof. Be sure to ask about any additional warranties or guarantees and make sure to get them in writing before the project begins.
How Much Will the New Roof Installation Cost?
There are several different methods to having a new roof installed. Make sure you ask your contractor for a details estimate on the roofing project. You can also contact us here at Grand Rapids Home Pros for a roofing estimate in Grand Rapids Michigan for your new roof installation.