HVAC in Grand Rapids Michigan Service Procedures
When your HVAC unit starts to give you trouble or you're getting an annual inspection of your HVAC unit there are lots of things that the technician may inspect. To get a better understanding of why they do this and what benefit it will be to you may not be clear so in this article we'll address some of the tests that the technician will perform and let you also know why they do this. 
HVAC in Grand Rapids Michigan Service Procedures
When a technician comes to your home in inspect your HVAC in Grand Rapids Michigan unit or to repair it they will do tests on the HVAC unit to see what is functioning properly and what may be causing problems. Each of these tests are designed to give them a better idea of the components of the HVAC unit and how well they are performing. These tests can differ if the technician is troubleshooting the unit rather than doing an inspection. Here are some of the tests that the technician will perform on your unit.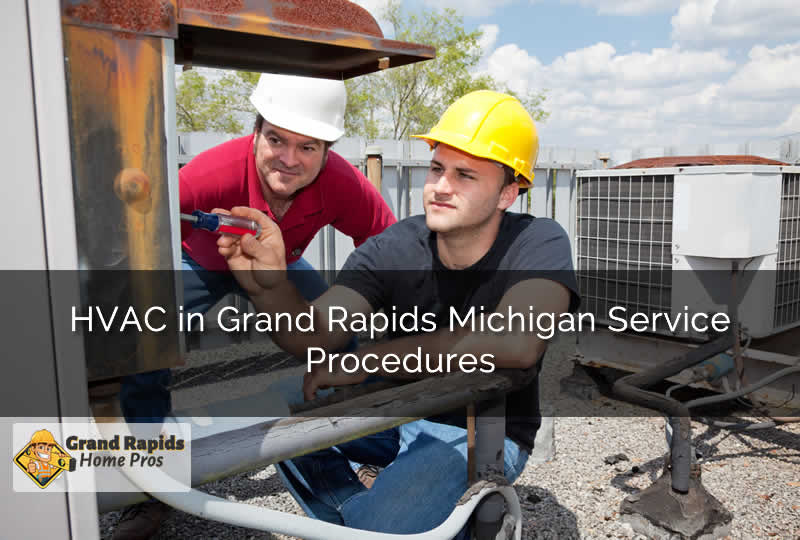 Checking Fan Motors for Excessive Amp Draw
There are usually at least two separate fan motors on your HVAC unit. These fan motors help to carry air into and out of the home. They are designed to use a specific amount of power. When they start to use more power than the manufacturers specifications the technician will look for problems. A fan motor that pulls too much power could be caused by several things and it may not be a fan motor problem at all. First, the technician will check for air flow problems to the fan motor. This can be from clogged filters to blocked air registers in the home. Another problem the unit may have is ductwork that has failed, leaking, or filled with water. All of these problems can be remedied by fixing or cleaning the air flow system rather than the fan motor. The fan motor could be the culprit if the power load is too high even after the unit is cleaned. Sometimes failing bearing can cause the fan motor to draw excessive energy.
Refrigerant Levels are Checked
One of the most misunderstood components of an HVAC unit is the refrigerant system or hermetics of the system. Most people think it needs to be 'topped off' like a car that needs gas. But for your HVAC in Grand Rapids Michigan unit you won't need to do this. Because the system is sealed you won't need to add any refrigerant unless there is a leak of some sort. The technician will check the level of refrigerant in the system and if needed they will add some. There could be small leaks that allow a very small amount to escape.
Wiring, Contactors, and Capacitors are Checked
The technician may check the wiring and contactors to make sure they are working properly. Sometimes connectors can become loose and the technician may tug on each one individually to ensure they are making a good connection. The technician will also take a multi meter and check the components in the electrical compartment. Things like contactors, capacitors, and more are checked to make sure they are working properly. The technician will check the voltage levels with the unit to make sure everything is performing as it should.
A Visual Inspection is Done To Complete the Inspection
A problem that many HVAC in Grand Rapids Michigan have is with foreign items inside the unit. The technician will do a visual check of most of the unit to make sure it's not being invaded by foreign items. One of the biggest problems inside an HVAC unit is ants getting inside and building a bed that can disrupt contactors and can also cause fans to be unbalanced and more. Other problems can be weeds and vines growing inside the unit. All of these items can cause huge problems and will eventually stop your unit for performing as it should. A visual inspection can help the technician locate any problems like this and stop them before they cause the unit to fail completely. That's one reason why an annual HVAC inspection in Grand Rapids Michigan is so important for home owners. To catch these problems before they turn into disasters.