5 Questions to Ask Your Roofer in Grand Rapids Michigan
One component of the home that is often overlooked but plays a critical role in protecting the home is the roof. When there is a problem on the roof of your home it can put every other part of your home at risk of damage. Most areas of the home can be easily damaged by water from a roof leak. Even the home furnishings can be damaged which makes even a small roof leak very problematic for home owners. Hiring a roofing contractor in Grand Rapids Michigan can help keep your roof in good shape but it's important to ensure you're hiring the right roofer for your home. In this article we'll go over some questions that you should ask any roofing company in Grand Rapids Michigan before they work or inspect your home's roof. 
5 Questions to Ask Your Roofer in Grand Rapids Michigan
Hiring the right roofer in Grand Rapids Michigan for you is important. After all, they're going to be installing or making roof repairs to one of the most important elements of your home. That being said, be sure to ask your roofer the following five questions before hiring them.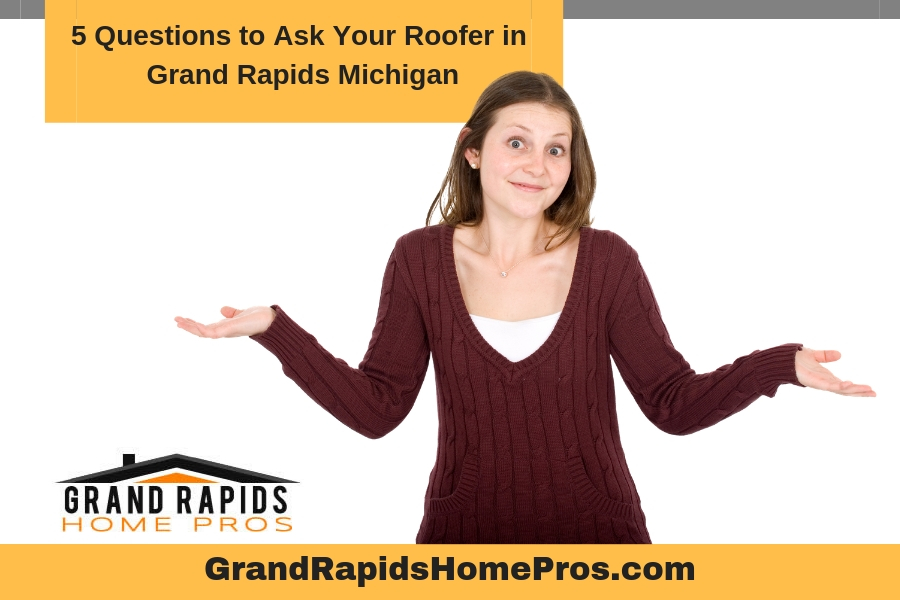 What Kind of Estimates Do You Provide?
Estimates give you a good idea of what your project will entail and how much it will cost. This can be crucial when deciding which roofer is right for you. Most contractors offer free estimates with no obligation. While this isn't required, every reputable roofer should at least offer a roofing estimate that is written. This helps you keep documentation of what will be done and how much you are required to pay. At Grand Rapids Home Pros we offer free, no obligation estimates.
Do You Have Any References?
Every reputable roofer has at least a few references they can offer potential clients. While the roofs they have serviced will speak for itself, it's important to hear from their former customers. This will give you a good idea about what working with the roofer is like and if their reputation actually rises up to what they claim it to be.
Do You Provide Any Warranties?
Warranties are extremely important when installing a new roof or upgrading your current one. Every top roofer should offer a labor warranty in case something goes wrong or you need a repair in the future. Every roofer offers a different type of warranty with varying time frames and details.
Your roofer should also offer materials from manufacturers that offer warranties. Manufacturing warranties are different than labor warranties because they only cover the cost of materials. So even if your roofer offers a labor warranty, you still might have to pay for the price of materials if the materials your roof has don't have any labor warranties.
It should be noted that while warranties aren't required, they give you peace of mind knowing that you can be confident in the work your roofer will do. If something goes wrong, you will fortunately be covered by your roofer's warranty.
What Kind of Licenses Do You Have?
Most homeowners are unaware that roofers should have a business license as well as a roofing license. A business license ensures that your roofer is legally allowed to operate their business in your area. As for the roofing license, it proves your roofer has met the necessary standards and regulations to adequately work on and service roofs. If your roofer has both of these licenses, you can be assured they will do a satisfactory job.
Do You Have Insurance?
Lastly, you should make sure that your roofing contractor in Grand Rapids Michigan has insurance. While accidents rarely happen during residential roofing projects, they are still a possibility. In the event an accident occurs, you won't be held liable for the damages or accident itself if your roofer has insurance. But if your roofer doesn't have insurance, then you will unfortunately be held liable for everything.
This could mean anything from having to compensate the workers and pay for any medical bills to even being sued. Always ask about insurance when hiring a roofing contractor for your home.
If you have a roof problem on your home in Grand Rapids Michigan be sure to call the experts at Grand Rapids Home Pros today. We offer free estimates and quality service.