Avoiding Common Roofing Scams in Grand Rapids Michigan
Roofing is a huge business, and when coupled with home improvement it can leave many home owners wondering if the project they just had completed was legit and trust worthy or if they just got scammed. Unfortunately, scams in the home improvement niche is present just like any other niche but there are some things you can do to avoid getting taken by a contractor in Grand Rapids Michigan. I'll go over some of the common things you'll need to look for when hiring a roofing contractor in Grand Rapids Michigan and how you can ensure the roofing project you have done on your home is up to standards and done correctly. 
Avoiding Common Roofing Scams in Grand Rapids Michigan
No one wants to feel they have been taken advantage of. Especially when it comes to your home. Essentially a home improvement contractor that doesn't do a good job or does a job that cuts corners and is not safe is putting your home at risk. Worse yet, it can put your family at risk depending on the project. Avoiding scams and cut-rate contractors is needed to ensure you get the best possible outcome to your home improvement project.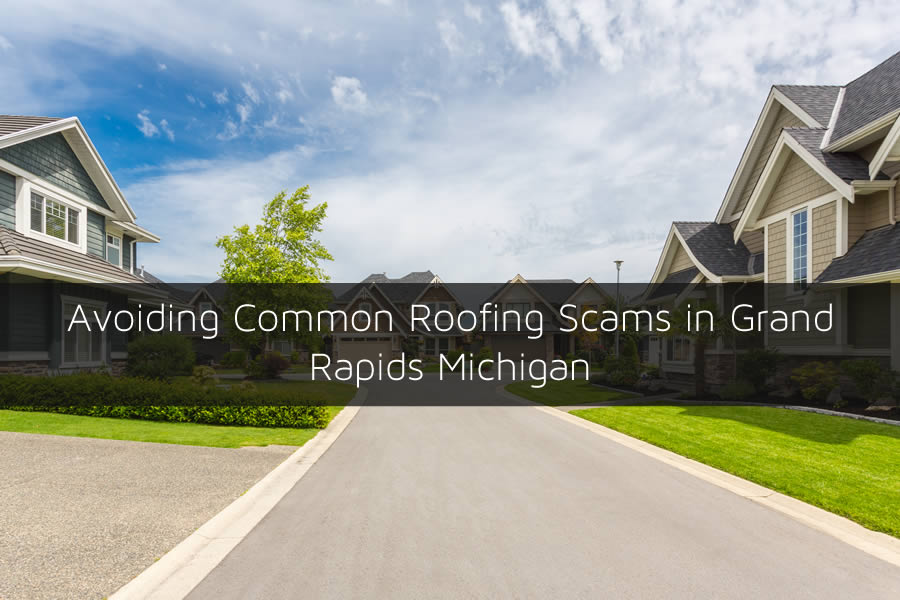 Always Use Licensed Roofing Contractors in Grand Rapids Michigan
The biggest reason why most home owners fall for these scams is they don't use licensed and insured home improvement contractors. A contractor that offers to do the project for much less than anyone else likely isn't the best choice. Make sure any home improvement contractor you use for your home project is fully licensed and insured. Home owners who have roofing products installed by contractors who aren't qualified may have the warranty void on their roofs. Improper installation is a big problem and it may not show up right away. Using a cut-rate installer may mean your roof's warranty isn't honored and you could be installing a new roof in just a short time.
Roof Repairs that Aren't Done Correctly
Having a roof leak can cause all sorts of damage to the interior of the home. Making sure the roof leak is repaired properly may require components and roofing materials to be removed and replaced. Some contractors however will install a more temporary fix that won't last long. When this temporary fix gives up in just a short time you can have the interior of your home damaged once again by the same roof leak. They may also use this as a way to continually charge you for the same roof repair over and again. Get the roof repair in writing and if you experience the same roof leak again be sure to use another roofing contractor in Grand Rapids Michigan to inspect the roof.
Get a Roofing Contract on Any New Roof Installation Project
Most licensed and qualified roofing contractors in Grand Rapids Michigan will always use a contract for the roof installation or any home improvement project. This contract basically states what will be done by the contractor and the final price of the project. It's important because it protects both the roofing contractor as well as the home owner. If the contractor doesn't do what is on the contract then you can take necessary steps to ensure it's done. Word of mouth and handshakes were once all that was needed but in order to really protect yourself from scams it's always best to use a contract before the project begins. You may never need this but it's always best to have it.
Roof Repairs That Are Not Needed
Roofing inspections are a great way to find potential problems on the roof before they cause any damage. Once a roof leak starts it can cause damages to the interior of the home. Annual roof inspections are a great way to stop these potential problems before they occur. Of course, you also don't want to pay someone to fix a problem that isn't really a problem. Using a quality, licensed contractor can help protect you from this.
Getting an Estimate for Your Roofing Project
Most roofing contractors will offer a free estimate to give you a price on the project. Always get an estimate before the project begins. You can even get a few estimates and compare them for best results. Contact Grand Rapids Home Pros today if you need a roofing estimate in Grand Rapids Michigan.