Is It Time for a New Roof in Grand Rapids Michigan?
The roof on your home can last for a long time. However, some things can decrease the life of the roof and cause it to fail. Usually before a roof fails it will start showing signs that it will soon fail. In this article I'll outline and go over some of the signs that you may need a new roof in Grand Rapids Michigan. No matter how old your current roof is there is always a chance of failure and when that happens it can lead to all sorts of problems inside the home. Let's take a look and see if it is time for you to get a new roof in Grand Rapids, MI.
Is It Time for a New Roof in Grand Rapids Michigan?
Guessing whether your roof will withstand the next storm is no way to protect your home or family. Typically, most roofs will fail at the worst possible time. During a storm or rain is usually when you notice it has failed. Unfortunately, by the time you realize that your roof is leaking there may already be damages to the interior of your home. Water damage from a roof leak is quite common but may be able to be avoided if you look for the following signs you may need a new roof in Grand Rapids Michigan.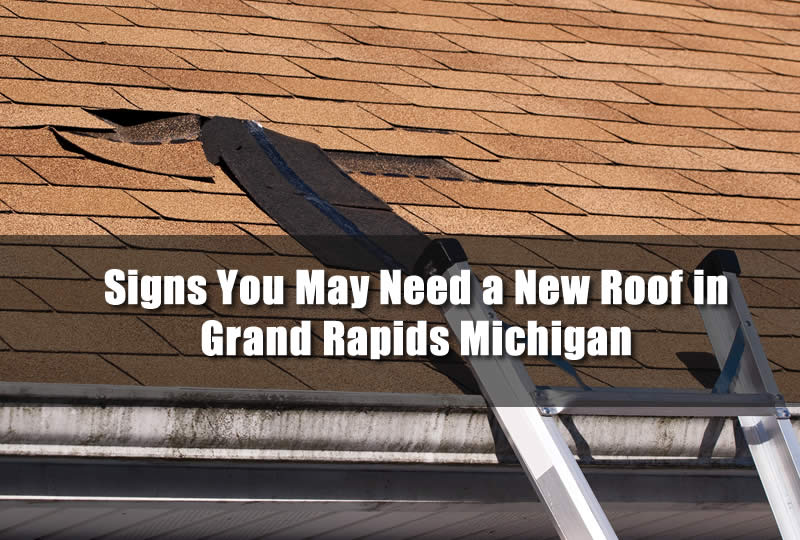 How Old is Your Roof?
Old roofs and new roofs can fail but as a roof reaches the end of it's useful life the chances are greater that it will fail. Most roofing materials will last 20 years or more. After your roof has been installed 20 years its a good idea to keep close watch on it because the signs of it failing will be more pronounced. There are other circumstances that may make a roof age faster as well. Things such as trees overhanging the roof can have an effect on how long the roof will last. Getting a roof inspection annually is a must for roofs that are 15 years or older.
Is Your Roof Currently Leaking?
Roof leaks can occur for a variety of reasons. Many times the roofing surface itself isn't leaking but parts of the roof where penetrations occur. Things like ventilation pipes or skylights can start leaking and allow water to leak into the home. A roofing contractor in Grand Rapids can inspect the leak and determine if roof repair is needed or if a full new roof installation is needed. A roofing inspection will also look for things going wrong with problem areas such as skylights or chimneys.
Have You Noticed Bit and Pieces of Roofing Material in Your Yard?
After a storm or high winds in Grand Rapids there are typically a prime time for roof damage to occur. For homes that have older asphalt shingles installed sometimes this wind can break bits and pieces of the shingles off. They usually end up landing in the yard around your home or even in your gutters in some cases. When this happens you'll need to have those shingles replaced. Wind usually gets under the shingles and causes them to break. This happen more frequently on older shingles because they are more brittle and also have lost adhesion to the layer of shingles below it. If you find these pieces in your home's yard it may be a good time to consider getting a new roof in Grand Rapids Michigan to protect your home.
Does the Shingles Look Curled?
Although you may not see any bits and pieces in the yard you may notice the shingles look like the edges are curled. If they look curled then chances are wind will soon get under the shingle and start to break them off the roof. You can inspect the shingles from the ground and you'll be able to see the edges curled. You may also notice the corners of the shingles rounded which is another sign that the shingles are starting to fail.

Get a Roof Inspection if You're Concerned About Your Roof
If you think your roof may have problems and need replacement it's important that you first get a roof inspection done. A roofing expert will go onto your roof and look for problems. You'll better be able to get expert opinion on your home's roof and you may not even need a new roof installed. Get a roof inspection in Grand Rapids Michigan to be sure.