Types of Roof Shingles in Grand Rapids MI
There are a variety of home styles in Grand Rapids Michigan. And with these different home styles there are all sorts of different roofing systems that are available. One of more popular roofing systems today is roof shingles. They can come in a variety of shapes and material and choosing one for your home can make it much more beautiful or much less. I'll go over some of the different types of roof shingles in Grand Rapids to help you decide which is right for your home.
Different Types of Roof Shingles in Grand Rapids MI
The roof on your home gives you protection from the elements and adds a certain flair to your home. But when it's time to replace your current roof there are many different types of roof shingles you can use. I'll go over some choices of roof shingles in Grand Rapids below to help you make a more informed decision.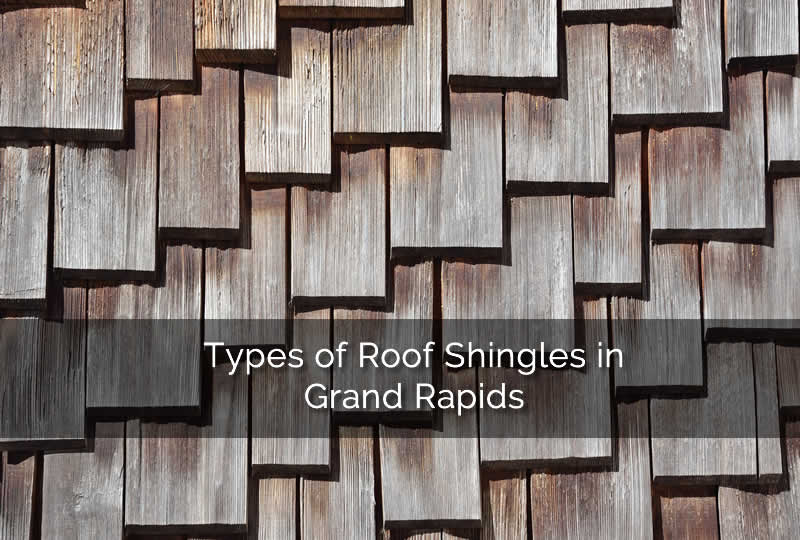 Asphalt Shingles
Asphalt shingles are one of the most commonly used shingles in Michigan. They come in a variety or shapes and styles and cover many of the homes in Grand Rapids and the surrounding areas. The lifespan of asphalt shingles range from 20 to 50 years depending on the grade and thickness of the shingle. Asphalt shingles are also one of the most inexpensive roofing systems available as well. The primary material used in creating these types of shingles is asphalt, hence the name.
Fiberglass Shingles
Considered an upgrade to asphalt shingles, fiberglass shingles provide the same styles, colors, and sizes mostly. However, their primary ingredient is fiberglass instead of asphalt. This makes the shingle more flame retardant and gives it a better fire rating. Fiberglass shingles are more expensive than asphalt shingles but many home owners like the idea of the fire rating on this type of shingle. If you are re-roofing your home and you currently have asphalt shingles it would be better to tear off the old asphalt shingles before installing fiberglass shingles. Roof shingles made from fiberglass are also very common in Grand Rapids, MI area.
Wood Shakes or Wood Shingles
One type of roof shingles that aren't very flame retardant is wood shakes or wood shingles. Usually older homes have wood shingles that add to the decor of the walls. They are typically cedar siding homes or log cabin type homes. Wood shakes are not very common are can be quite expensive depending on the type of wood used as a shingle. However, wood roof shingles are one of the most eco-friendly roof systems available. They can also last for decades but need maintenance annually which can add to the total cost of the roof over a 20 year span.
Slate Shingles
Some home in the Northeast have slate shingles but they are not very common in Michigan. Since the material used to make these roof shingles is slate they last an extremely long time. They are however, expensive to install and not readily available in the Michigan area. Shipping costs and installation of these types of shingles can be expensive. They usually last for decades however with little maintenance needed.
Tile Shingles
Tile shingles are another uncommon roof shingle in Grand Rapids. Usually homes with an architectural design imitating a Southwest style home will have this type of roofing shingle. They are very common in the southwest part of the United States but are less common in Michigan. Homes with a southwest architectural design may have this roofing system.
Tile shingles, like slate shingles are expensive to install. They last longer than most other roofing systems however. Some tile shingle roofing systems have a life span of 80 years or more. They can become damaged in storms just like any other roofing system but usually hold up better against wind and driving rain. Some coastal homes use this type of shingle system to prevent wind damage to their roofs.
Should You Use the Same Roofing System as You Have Now?
With the many types of roofing systems available today it can be difficult to decide on one you really like. Some home owners prefer to use the same material that their current roof has. If you have questions about your roof and you're looking for a change then be sure to get a free roof estimate on your home and see what the possibilities are.