How to Save on Your Next Home Remodeling Project in Grand Rapids MI
Want a new an exciting room in your home but don't want to spend thousands of dollars? Here are some great tips on how to save money on your next home remodeling project and still get a great looking area. When you're considering a home remodeling project there are many things that you'll need to make a decision on and your choices could mean higher prices or lower prices. In this article I'll give you some ideas and tips on saving money with just a few simple decisions.
How to Save on Your Next Home Remodeling Project in Grand Rapids MI
If you're looking for something extravagant and unique some of these tips may not be for you. For most home owners, however, these tips can save thousands off your home remodeling bill whether you use a home improvement contractor or you want to do things yourself. Certain areas of the home may be more beneficial to these tips as well. Kitchen home improvement projects are usually the most expensive and it's likely that these tips can save you the most with Kitchen remodeling.
It's Time to Get Your Hands Dirty with Home Remodeling
When you're hiring a home improvement company to come in and do much of the work for you on your home remodeling project you may be able to save some money by doing it yourself. Some things can be done by the home owner and can really add up to savings on the entire bill. Things like removing carpet, tile flooring, or cabinets are all time consuming and if you do this yourself you can save some money on the project. Be sure to ask about discounts if you do this work yourself with the home remodeling company in Grand Rapids Michigan.
Add a Fresh Coat of Paint
Want to have more of a hands on experience with the finishing of the home rather than the demolition? Try to add some paint to the mix. Adding a fresh coat of paint to any room in the home can change it dramatically. You can even try some stripes or other designs to make the room more unique. Many home owners will change the paint in rooms that are visible from main room they want to remodel. This can give the effect of a whole home remodel when only one room had major work done.
Shop Some of the Salvage Stores for Deals
Want to change your kitchen counter but don't want to pay full price for a new counter top? The answer may be to shop the local salvage stores for discounted items. Usually the selection at salvage stores are not as big and you may need to purchase something that will require a little extra work to fit but the outcome can be huge. Just because an item is for sale in a salvage store doesn't mean it's junk or damaged. Many times home improvement stores will send products that were incorrectly ordered or never picked up to salvage stores. These items can be windows, counter tops, moldings, and more. Picking up an item like a counter top at a salvage store could save you hundreds of dollars on your home remodel bill.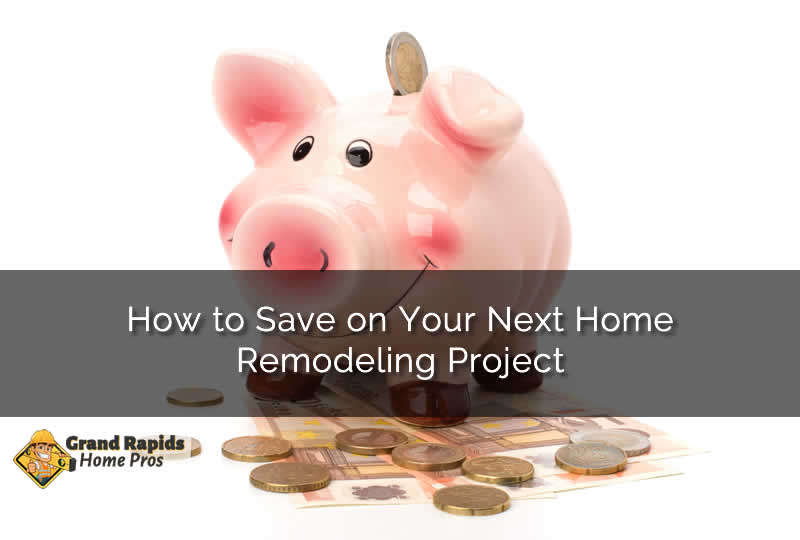 Learn to Re purpose Items
Another great way to take advantage of savings when you're doing a home remodeling project is to re purpose items. If you're considering replacing the cabinets in your kitchen can you re purpose the pulls to work in a bathroom? Or add some shelves from the kitchen to the bedroom after they are painted. Changes like this are common and if you can find ways to re purpose some items especially in a full home remodel you can save a lot of money on the entire project.
How Are You Financing the Home Remodel
One final way to save money on the home remodeling project is by looking at financing options. If you want a home remodeling project done but don't have the money you're going to need to finance it and depending on the finance charge it could add more to the final bill. Getting a lower interest rate will help to save money and if you can save the money for the project then you can also save that way as well.
If you're ready to start a home remodeling project then we'd like to help. Contact us here at Grand Raids Home Pros for more information on your next home remodel project.