Find the Best Home Improvement Contractor in Grand Rapids MI
Finding the perfect home improvement contractor isn't always easy. But there are some things you can do to ensure you get the best possible contractor for your home improvement project. This article will discuss some of the things you should look for when choosing the best home improvement contractor in Grand Rapids MI. 
Find the Best Home Improvement Contractor in Grand Rapids MI
It's no secret that finding home contractors is tough. In fact, there are just as many bad contractors as there are good ones. Maybe even more than half. Finding the right one for your project isn't as difficult as you might think however, if you follow some simple guidelines we'll lay out in this article. These guidelines are in no specific order so please keep that in mind when reading.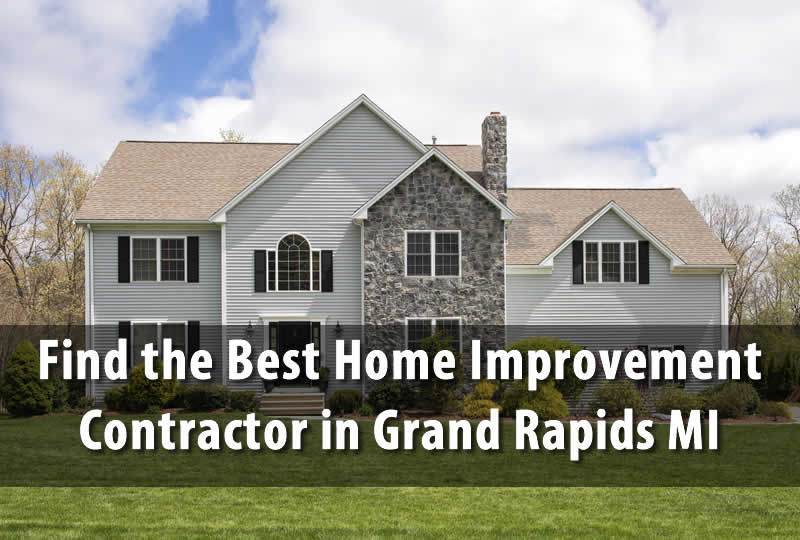 Check Their References
Most contractors have done other jobs before. And if they done a good job and treated the customer right on those jobs they shouldn't have any problem letting you know. In fact, most people would vouch for a contractor even if they didn't even ask. Most contractors will tell you some of the projects that they have done in the past. However, they might not be honest about it. Ask them if it's okay for you to contact these references and see how things went. Most contractors will have a list of names and phone numbers with past customers who are okay with having you contact them.
When you call and speak with the references be sure to ask about the following: 
Was the home improvement job completed on time and budget?
Were there any problems with the project?
Is this contractor trustworthy?
What did the contractor do to go the extra mile for you?
These are just some of the questions you can ask the contractor's references. You can also ask more specific questions related to your project in particular as well.
Get the Right Contractor for the Project
Some of the best home improvement contractors in Grand Rapid MI are a jack of all trades. They can do many different jobs including plumbing, electrical, and structural. But sometimes it's best to get a contractor who specializes in the specific project you're looking to complete. For instance, most home improvement contractors can install kitchen cabinets but not all can build custom cabinets in your home. They may even sub-contract that part of the work out leaving you with other contractors. Ask about whether they will sub-contract any work on the project out.
Make Sure They are Licensed and Bonded
Having a competent contractor handle your home improvement project is a must. The only way to know for sure they can handle the work is by making sure they have the proper licenses to operate. You can do a license search to find out who has the proper licenses to do your home improvement project. By making sure they are properly licensed you're one step closer to finding the best home improvement contractor in Grand Rapids MI.
Another important qualification you'll need to check is the insurance that the contractor holds. When a bonded contractor has a problem and is responsible for repairs then it's taken care of. Without the proper insurance your contractor can demolish everything in your home and then call it quits for any number of reasons and you'll be left with a huge mess. Although you may not think that insurance is needed with a contractor, consider what could happen if they don't have it and how much you would spend to repair or replace the damage.
Neatness and Attention to Detail
I've always been a little picky when it comes to home improvement. This attention to detail gives me a better understanding of how a project is going from the start. For instance, in areas that will be covered by other materials, I'd like to see the same kind of attention to detail that I see in the final product. It let's me know that the contractor was on top of the project during the entire length of the project. And if a contractor is that much involved with the project chances are they're going to be one of the Best Home Improvement Contractor in Grand Rapids MI.