Pick the Right HVAC Contractor in Grand Rapids, Michigan
Heating and cooling systems require a significant financial investment.  In addition, the professionals who advise, plan and ultimately install, repair or replace your system should be knowledgeable, experienced and up-to-date in all aspects of heating, ventilation and air conditioning systems. 
Pick the Right HVAC Contractor in Grand Rapids, Michigan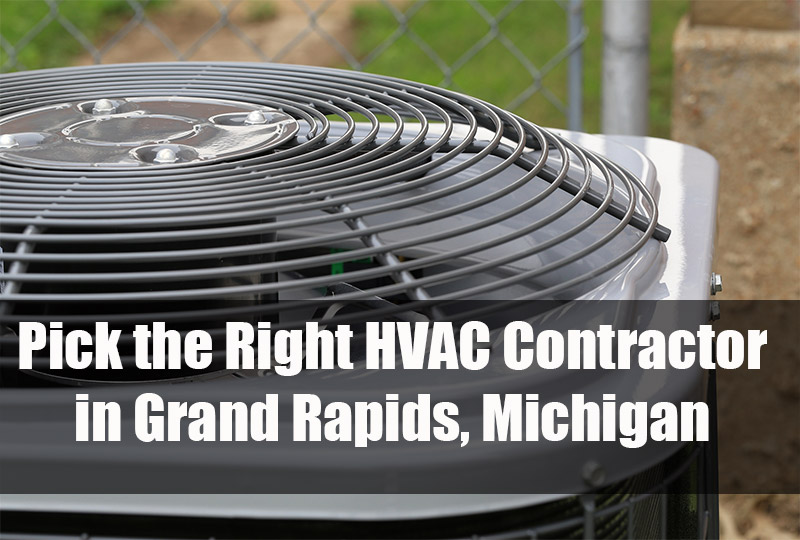 Every home has its basic needs, but the right HVAC contractor will be the one who can assess your individual needs relative to your home's uniqueness and your personal taste.
We have compiled some tips to help you distinguish between a well-skilled, professional contractor and a handyman or contractor with lesser ability here in Grand Rapids, Michigan.
Tips for Choosing a HVAC Contractor
Do Your Homework – Study
Get Referrals
Contact References
Ask Questions
Get a Home Evaluation
Compare Written Estimates
Secure with a Written Proposal
Do Your Homework – Study
You will be spending from $1,000-$5,000 for new equipment and labor costs.  It is imperative you do some research relative to what you feel you need and what you are going to purchase from a contractor in Grand Rapids, Michigan.
You should know the make and model  of your current system and its maintenance history.  This will help potential contractors understand your needs.  Make notes relative to your current system.  Are all rooms comfortable or do some heat and cool better than others.
What are the dimensions of your home, upstairs and downstairs?  Do you have a basement, loft, family room or other additions that require heating and cooling.  There are many ways to heat and cool your home for energy efficiency.
Get Referrals
Call upon friends, neighbors and even co-workers for contractor referrals.  There are many HVAC contractors in Grand Rapid, Michigan.  Utilize your personal contacts to get testimonials of their personal experience.
You will want to hire only a professional HVAC contractor with proper insurance, bonding and certifications consistent with industry standards.  Look online for local trade organizations affiliated with  MCA or MIACCA as an example.  Compare referrals and other contractors you encounter for trade association affiliations.
Contact References
Now that you have some HVAC Contractors to choose from, take some time to contact them.  Ask them for customer reference.  Contact them and ask about timely, quality service and performance.  Did the contractor meet expectations at the specified cost.
When we need an HVAC contractor, it may be on an emergency basis.  Ask if they felt they were treated fairly given the emergency situation.  Integrity and trust is an important aspect of selecting the right HVAC contractor.
Ask Questions
A key question for a potential contractor is how do they determine the size and type of equipment needed for your home.  The correct answer involves a mathematical calculation based on the spatial dimensions etc… of your home and rooms, space affected.
By following an industry-wide standard in determining what best suits your home's needs, you can have comfort in knowing the system designed for your home will be custom designed by a contractor who is professional and trained to install the right system in your home.
Review any and all information available relative to the contractor(s) you are considering.  Years in business and the types of customers, residential and commercial, are important factors to consider.  If the information is not in print, you should ask prospective contractors about their experience.
Get a Home Evaluation
The HVAC contractor or contractors you select should spend time on-sight, inspecting your home and current system.  After meeting with you and completing an inspection, the contractor will be in a position to assess your needs.
For example, a bigger system is not always the answer.  The heating and cooling system will be based on the size of your house, windows and level of insulation.  Your duct system (if applicable) will and should be inspected for air leaks and insulation.  Airflow may also be measured.  Professional, skilled HVAC contractors consider a host of variables in designing the right HVAC system.
Compare Written Estimates
The next step is to compare contractors' proposals/bids.  The lowest price many not be the best 'deal'. Energy efficiency resulting in lower utility bills is a major consideration.  Take proposals and compare the respective utility bills and warranties that go with all installations.  Look for overall savings over the expected life of the system.
Secure with a Written Proposal
So you have done your homework, gone thru your reference, referral stage and gotten your inspection and estimates, be sure to sign a written proposal with the HVAC contractor you select before any work is done.  This will protect and insure all the details are worked out and understood by you as the customer and the contractor.
The make, model, work schedule, all relevant warranty information as well as all costs should be inclusive.  There should be no hidden costs after the fact.  The proposal should be signed by you as the customer and the owner or suitable representative from the HVAC contractor assigned to your project.
Summary
We hope these tips are helpful.  They seem extensive and time consuming.  All of this can be done in a short time with your awareness to the details and relevancy of things we have pointed out.  Not all HVAC contractor searches are elective.  Quite often, your search will be the result of an emergency.  You will need to act quickly.
Knowing what to do and where to look is often the missing link to quick efficient action.  Take our tips to heart and we believe you will 'pick the right HVAC contractor in Grand Rapids, Michigan'.