Tips for Asphalt Shingle Roof Repair in Grand Rapids Michigan
One of the most popular roofing materials used in Grand Rapids Michigan today is asphalt shingles. Asphalt shingles have been around for many decades and while their manufacture and design may have changed a bit they are still very closely related to the same ones made decades ago. The reason why they are so popular is simply because they work and they are economical. In fact, they protect your home for up to 50 years and hold a warranty just in case something happens. Perhaps, that's why so many home owners choose this roofing choice. Although the asphalt shingles used today are really strong and hold up very well they can sometimes have problems and you'll need to get roof repair in Grand Rapids Michigan. In this article I'll go over some tips to help you get the best asphalt shingle roof repair in Grand Rapids Michigan at the best price. 
Tips for Asphalt Shingle Roof Repair in Grand Rapids Michigan
Unlike metal roofing or tile roofing, when an asphalt shingle roof needs repair it may not leak initially. Because asphalt shingles are installed with an under-layment which can help protect it in case something goes wrong it may not show up as a roof leak right away. This secondary protection helps you in case your home's roof was damaged by storms and roof damage has occurred. It can protect your home until a roof repair is done on your home.
Don't Try to Fix Roof Leaks Yourself
Roofing contractors in Grand Rapids Michigan have the proper safety equipment and experience to go onto your home's roof and fix any broken shingles or other problems. However, most home owners don't have experience, safety equipment, or even the right tools needed. That's why it is advised that you do not go onto your home's roof. A fall from the roof can be fatal or you can be seriously injured. Just walking on your roof the wrong way can sometimes cause problems as well so you can be doing more damage than you are good when going onto your home's roof. It's always best to use a licensed and insured properly trained roofing contractor in Grand Rapids Michigan when you need roof repair or replacement.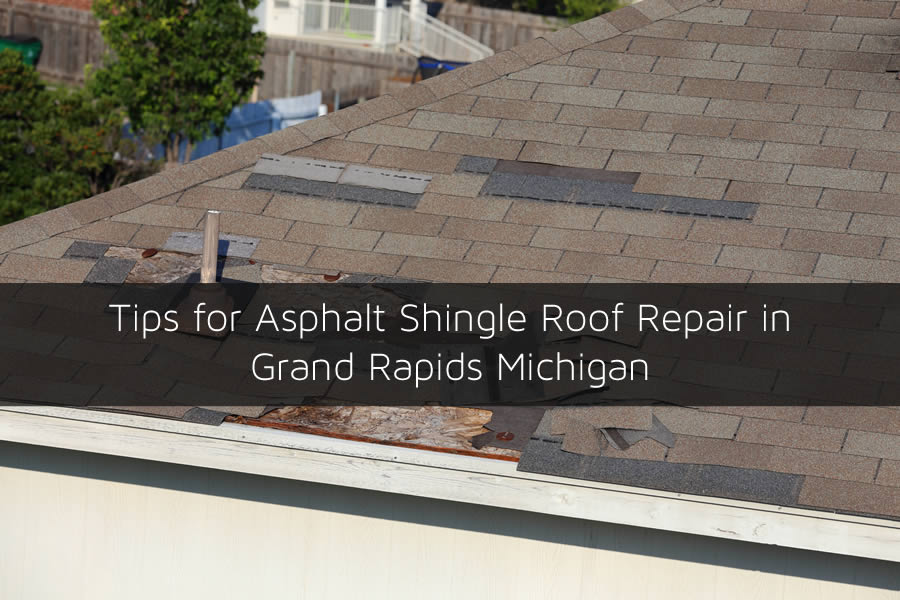 Age of the Roofing Can Play a Role
One of the biggest problems with asphalt shingles is that as they get older they start to break down a bit. They become more brittle and can break easily. They may also tend to pull together which makes the tab of the shingle want to curl and pull away from the roof. This causes two problems. The first is that the top shingle loses adhesion to the bottom shingle and the second is the shingle pulls away from the roof making it more susceptible to wind damage.
Storm & Wind Blown Damage on the Roof
When the asphalt shingles on your home are exposed to high winds it can cause them to flip up and break. Sometimes they break completely away from the roof and you may find bits and pieces of shingles around your home. It's always a good idea to look at your roof after a major storm and look for any broken asphalt shingles on the roof. Other problems storms can bring is debris like tree limbs falling onto the roof and damaging the asphalt shingles. Hail can also cause damage to asphalt shingles as well.
Valleys on the Roof Causing Problems
One area of the roof that seems to be the more susceptible area for roof leaks is usually the valleys in your home's roof. A valley is basically where two areas of the roof meet and form a trough where water is directed off the roof. During heavy rains the amount of water that is in the valley is much more and if there is a problem in the valley it will likely result in a roof leak. During a roof inspection be sure the roofing contractor checks all the valleys on your home's roof.
Getting a Roof Inspection in Grand Rapids Michigan
In order to determine what shape your roof is currently in you'll need to get a roof inspection in Grand Rapids Michigan. A roofing expert will come to your home and go onto your roof looking at the asphalt shingles. They will also inspect many other components of the roof. This can help you  identify any potential problems with the roof and if there is a problem you can get it fixed right away. Contact Grand Rapids Home Pros if you need a roof inspection in Grand Rapids Michigan today.