Budget Bath Remodel Ideas for Your Home in Grand Rapids Michigan
Apart from kitchen remodels a bathroom remodel can be one of the more expensive home improvement projects. But with the budget bath remodel ideas listed in this article you can actually remodel a bath for much less than you might think. You'll just need to remodel the bathroom in pieces rather than all at once. By breaking the entire home improvement project down into steps you can significantly reduce the cost of these small projects. Many of these small inexpensive home improvement projects can also be done as a stand alone to give you a completely different looking bathroom but without remodeling everything about the bathroom. 
Budget Bath Remodel Ideas for Your Home in Grand Rapids Michigan
The following list of bath remodel ideas is not in any particular order. The price will be dependent on the materials used in the project and also the type of work involved if you need to hire a contractor.
Use the Right Materials
The materials used in your bathroom remodel can make it a very expensive project or a very inexpensive project. Choosing a very inexpensive material may save you money it also may not be exactly what you want. Try to find something that you can enjoy but doesn't need to be special ordered which usually costs more. You can also try to find materials at salvage stores or wrongly ordered merchandise from home improvement stores. Many times you can get these materials at deep discounts. Many times you can find bathroom vanities at good discounts and they are quality products so it's certainly a good idea to check them out on your next home improvement project.
Adding Tile to the Flooring
One of the most done bathroom home improvement projects for home owners is adding a tile floor into the bathroom. Adding tile is a relatively simple project that most homeowners can do themselves. More intrinsic designs and cuts will likely require an expert however. Larger tiles are also better for beginners as they won't be as many to place or cut in the install. This is a great way to add a splash of color to the bathroom and if you currently have linoleum floors it's a huge impact on the bathroom.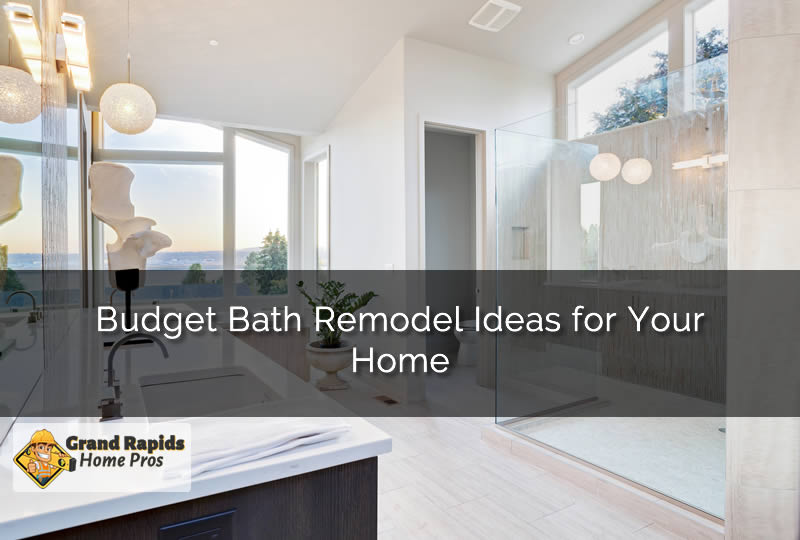 Painting Parts of the Bathroom
Sometimes in a bathroom the walls are exposed with drywall where paint can be applied. Consider changing the color of the paint to give it a fresh new look. There are some things you'll need to be aware of however. The first is that not all surfaces in the bathroom should be painted. Tile, grout, fiberglass, and acrylic may all be in your bathroom and typically aren't likely to accept paint. In fact the only surfaces in the bathroom that will accept paint are drywall and wood. Make sure you use a good quality paint as well because of the steam issue with hot showers and such. Painting is likely one of the most inexpensive bathroom remodel projects you can do in your home.
Adding a New Vanity and Cabinet
A great way to really get a bathroom looking different is by adding a new vanity to the bathroom or a cabinet you can change the look of the bathroom dramatically. In fact, if your bathroom currently has a more antique and classic looking vanity changing it to a more modern looking vanity will be a huge difference. Replacing the vanity yourself can be done for under $5oo usually. But there will be some plumbing involved which many home owners aren't comfortable with. Here at Grand Rapids Home Pros we can install a new vanity and take care of all the plumbing for you. In fact, we can remodel your entire bathroom if you like.
Add Some Shower Doors to Your Shower
If you currently have a shower curtain and rod installed in your bathroom then one of the bathroom remodel ideas you can do is to add shower doors and remove the curtain. Today's shower doors look amazing and general designed doors are only around $500 with more exclusive designs being a bit higher. If you plan on adding shower doors be sure to measure the opening before shopping around because the price will depend greatly on the size of the shower door you wish to install.